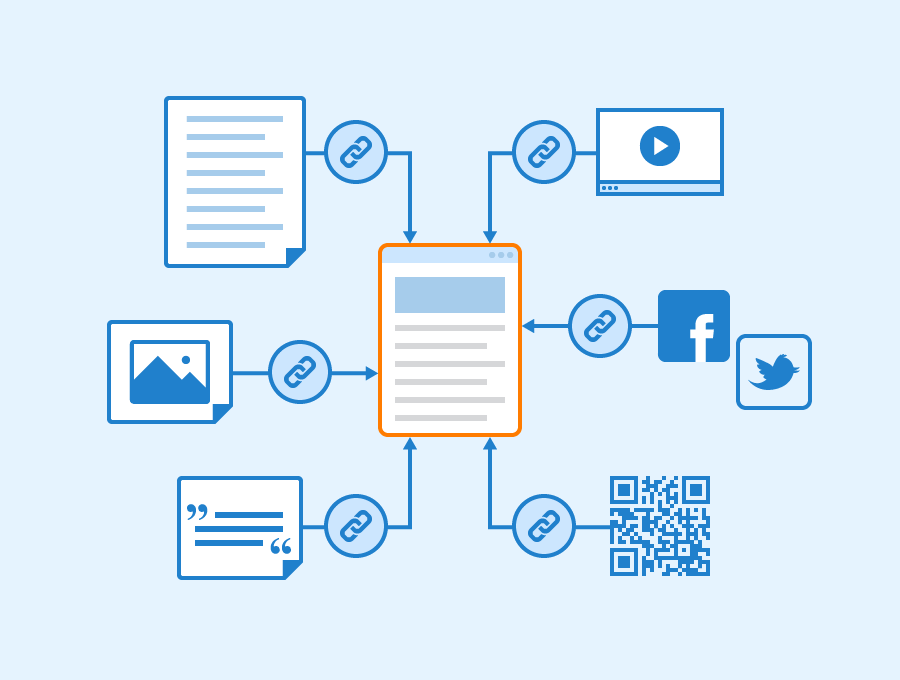 What Are Backlinks?
A backlink is just a link from one website to another. Google uses backlink as a ranking signal because when one website links to another, it means they believe the content is trustworthy. High-quality backlinks help to increase the site's ranking position and visibility in search engine results 
1. Building Awareness (No Follow Links)
Links are very important in building and growing information about your product and your business to more people. Link building is like an internet connection that is important in increasing your website traffic. Links are proof of support you say and want to explain in more detail. They can be useful in directing a person to any specific product or service you want to show to the audience. No, follow links come into use as Brand Awareness. Product awareness requires a visual link but can be followed by an audience. For example, people post multiple links to current headlines and articles on Facebook and Twitter. This allows the audience to follow the pages without having to read all the content. It leaves an impression on the mind of the visitor that, in time, makes them go back and explore the page.
2.  Guest posting for backlinks
This idea is not a change at all, but it can help build links in your store - even your product pages. In other words, do not write guest posts aimed at your audience. A better guest post should include your website speciality and your expertise. When writing guest posts, it is best to only link your domain once or twice and do it in context. No one, and I mean no one, will put guest posts on their website if there are only 300 words of selling your own product.
3. Testimonials
You probably used to ask for testimonials from your customers, but have you ever thought that they too could be a great way to build links. It can help you to diversify your link profile by shouting about how great someone else's product or service is. If you can write testimonials or case studies that they can publish on their website, they will usually be happy to link and return to your website as a credit card next to it. From there, write positive testimonials and share them next to permission to use them on their website. There are so many ways you can get backlinks to your website. Which strategy best for you often depends on how close you have come to building links in the past, what industry you work in, and what your competitors are doing.
4.Resource Link Building
When you think of ways to get backlinks, many often start by thinking of bigger and harder strategies. But one of the most effective ways to build links is to build a resource link. To be successful with this strategy, you need to identify where your business can add value to your audience. After that, you need to create excellent resource pages to get quality backlinks from the relevant authorities. And you often get these opportunities by analyzing your competitor's link profile and looking at who they are contacting but not you. By using the SEMrush Backlink Analytics Tool, you can easily identify resources that link to a competitor's site. This way, you can work on content strategies that can attract their attention, and they will want to link to your site instead.

5.Building Relationships with Influencers.
Once you get to know the work of influencers in your niche - your goal should not just be to hit them up for links. It just doesn't work this way and it can be annoying if you try this from the beginning. Your goal should be to start truly engaging with them. Leave a meaningful comment on their blog, you often share their work on social media (believe me, they'll see). Also, try linking them as authorized sources from posts on your blog. Over time, this action will bring you to the promoter's radar as someone genuinely interested in what they are doing. And as someone who gave them something first before you go and ask for something in return.
Treading the ever-evolving dynamic world of Digital Marketing and its plethora of solutions can be confusing and intimidating for a new business – trusting a team of proven market experts is therefore the wise thing to do! Call us on 9136024246 / 7 or mail us at info@eyecatchers.co and we will prepare a tailor-made digital marketing solution for you that will be effective, efficient and 'value-for-money!
">
">